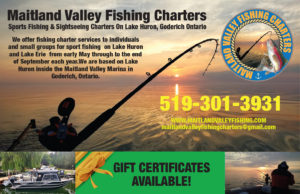 Welcome to Maitland Valley Fishing Charters.
We offer fishing charter services to individuals and small groups for sport fishing on Lake Huron from early May through to the end of September each year. We are based on Lake Huron inside the Maitland Valley Marina in Goderich, Ontario.
A Great Gift for those who are hard to buy for!!!
Rates for the 2022 season all based on 4 person
$550.00plus Hst for 4 hours
$700.00.00 plus Hst for 6 hours
$1000.00 plus Hst for 8 hours which can be split in half morning and evening
Deposits will be required to confirm booking dates. Credit Cards are accepted
If you want to know more you can contact me by email at: [email protected] or you can go to our "Contact Us" page for more options. (please click here to go to the "Contact Us" webpage)
Please check out my blog. You can subscribe for free to follow us and receive the latest updates about our services and activities.
You can also check us out on FaceBook by clicking on this link: Maitland Valley Fishing Charters – FaceBook
Thanks for visiting & I hope to see you sometime soon.
Captain David Palmer